Black Mosquito Coils, How Much Do You Know?
Blog 2017-09-20 21:37:55 aogrand 2315
There are two kinds of mosquito repellent incense, herb
mosquito coil
incense, and chemical insecticide repellent incense. The smoke emitted when the herbs are lit is almost zero damage to the human body. Chemical insecticides contain six, six, six, two, three pesticides, DDT and other chemicals, which can lead to nausea and nausea. The effective ingredient was first lit mosquito-repellent incense, mainly pyrethroid, if mosquito-repellent incense burning is safe, only incomplete combustion will produce a polycyclic aromatic hydrocarbon, carbonyl compounds, benzene and other carcinogens. So, have you ever heard black mosquito coils? Do you know more about black mosquito coils?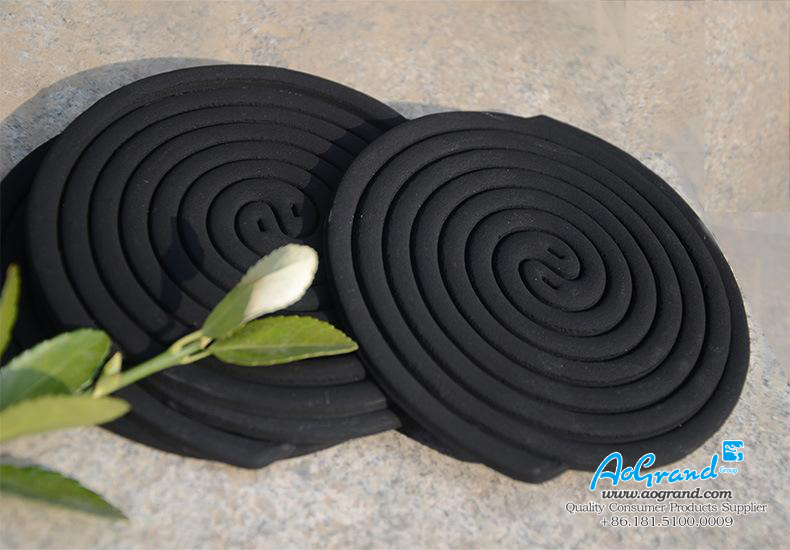 Black mosquito coil is a kind of mosquito-repellent incense, mainly composed of carbon powder. A mosquito coil is also a mosquito repelling incense, usually made into a spiral, and typically made from a dried paste of pyrethrum powder. The coil is usually held at the center of the spiral, suspending it in the air, or wedged by two pieces of fireproof nettings to allow continuous smoldering. Burning usually begins at the outer end of the spiral and progresses slowly toward the center of the spiral, producing a mosquito-repellent smoke. A typical mosquito coil can measure around 15 centimeters (6 in) in diameter and lasts around 7–12 hours. Mosquito coils are widely used in Asia, Africa, South America and Australia. Although mosquito-borne diseases are common in many parts of the world, Malaria is the only human infection known to have been transmitted by mosquitoes in this country. Due to improved housing and related environmental factors, the malarial mosquito now frequents cattle sheds and stables, seldom feeding on human blood and the possibility of locally transmitted malaria is now extremely remote. The British climate is not suited to the transmission of tropical diseases such as filariasis, yellow fever, and dengue. Some mosquito-borne viruses causing low fevers occur in Southern and Central Europe, but none have been detected in this country. British mosquitoes have a nuisance value and, in some cases, cause severe skin eruption and localized pain. Nevertheless, severe infestations can cause much distress and are a valid reason for mosquito control. A trusty product seems important in this regard. Arrow mosquito coils act like shields protecting your family against bug bites while sleeping, free you from potential mosquito-borne diseases. , there are various other mosquito control products available, more details, click here.
*if you did not receive our reply within 24hrs, please resend to our alternative email: s@aogrand.com, or call +86-181.5100.0009 directly.
We will never, ever spam you – nor sell, trade, or transfer your email to anyone else.